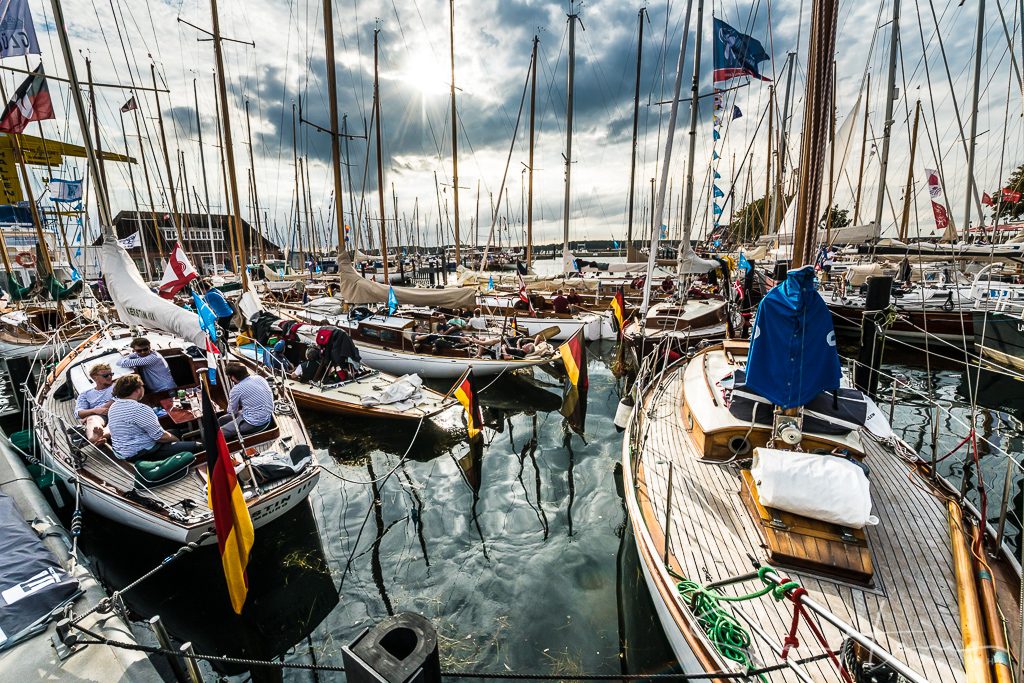 As usual – the German Classics is the highlight of the yearly classic sailing events in Germany – this year only topped by the Classic Week that is organized every 4 years. The German Classics is all about meeting at Laboe and relaxed sailing in the Kiel Bay / Stollergrund region – Baltic Sea. This year the conditions were forecasted with lots of rain that didnt show up finally. The preceeding week also had lots of wind so arriving from the east wasnt so easy for some. So overall unfortunately less participants but as usual top atmosphere with life music performances, lots of drinks, Budweiser welcome beer and this relaxed evening chill-out feeling. My picture BestOf at Saturday night was also very good received – just one of the various event highlights but clearly this year we got the technical part of the presentation very right – a large presentation silver screen, high res beamer installation and my sound mix wasnt over amplified – so the audio-visual experience was pretty up to what I wanted. Great! Kudos to the FKY GC19 team – they nailed it – this was perfectly organized. Did also some Slomo 120fps footage that went nicely into the mix. Though DaVinciResolve grading in the post production within a tight schedule was slightly stressfull ;-), but I couldnt resist. Here a dedicated film editing setup would be nice to have – its basically about computing power … . Will integrate more of these snippets in the future – FullHD Slomo with 120fps slowed and interpolated 10x is just an incredible experience when everything works well and stabilization … was successful.
More to come – here a first picture preview. I will likely kill every deadline that I set – there are close to 6k shots in the archive. So I will need some time to go through these. Possibly: gallery online by the end of this week – but see deadline killing above ;).
There have been some questions regarding the full slideshow as mov file for online viewing – this is unfortunately not possible with the original audio track since its not licensed for online use. But there will likely be a slightly modified version at the end of the year online in compressed format with all the slomos included.
Thxs so much to Christiane and Nicole for driving the RIB! Its always a pleasure!